Jack Gibbons has been giving highly acclaimed recitals in the university city of Oxford for over 35 years, all concerts taking place in the historic Holywell Music Room (Europe's oldest purpose-built concert hall, opened in 1748, where both Handel and Haydn performed).
Special discounted concert E-tickets are available from this site:
E-tickets for Jack Gibbons' Oxford concerts can be purchased on-line direct from this website at special discount on-line prices. You can also join our mailing list free of charge to receive details of future concerts by Jack Gibbons, including priority booking and discount ticket offers; to join please e-mail your details (e-mail address or snail mail address or both) to mailing@jackgibbons.com.

Holywell Music Room, Oxford
August - September 2013
JACK GIBBONS'
26th annual Summer Piano Series
also celebrating the bicentenary of the birth of Charles-Valentin Alkan
Five concerts in two weeks, beginning Sunday 18th August 2013,
featuring the music of Beethoven, Chopin, Alkan, Gershwin, Gibbons, etc,
with each concert including a brief interlude in celebration of the Alkan bicentenary

An Evening of Beethoven

An Evening of Gershwin

Alkan bicentenary celebration

Chopin & Alkan: piano legends

Farewell Piano Party
---

TICKETS

Advance tickets for Jack Gibbons' 2013 Summer Piano Series are on sale at the
discount rate of £15 each, direct from this website up to 24 hours before each concert.

A special season ticket for all 5 concerts can be also be purchased for only £50
direct from this website.

Tickets at the above rates can also be purchased in person (or by phone
or internet) from Tickets Oxford, Oxford Playhouse, Oxford (tel 01865 305305).

Full price tickets (£18 each) will also be on sale on the door of the Holywell Music Room
from 7.15PM for concerts beginning at 8PM
and from 6.15PM for concerts beginning at 7PM
Scroll down for more information on each concert and to purchase tickets...
---
CONCERT 1:

AN EVENING OF BEETHOVEN
Holywell Music Room, Oxford
Sunday 18th August 2013 at 8.00PM


Described by the renowned Beethoven scholar Denis Matthews as "an extraordinary talent with a distinct and distinguished recreative gift and artistic personality", award-winning pianist Jack Gibbons opens the 2

6

th annual season of his acclaimed Summer Piano Series with the immortal music of Beethoven, including the Moonlight, Pathétique & Appassionata Sonatas together with the

deeply

romantic

Sonata in E

minor

, Op.

90

.

"Jack Gibbons opened his 18th summer season at the Holywell last week amid a mild outbreak of Gibbons-mania. The start of the concert was delayed by ten minutes as staff struggled to cope with the demand for seats. Gibbons' affinity with Beethoven's music is such that he transcends mere recital; rather, he becomes one with the composer, absorbing his moods and passions, and recreating his bravura technique." Oxford Times
---
CONCERT 2:

AN EVENING OF GERSHWIN
Holywell Music Room, Oxford
Wednesday 21st August 2013 at 8.00PM

Hailed by the BBC as "THE Gershwin pianist of our time", Gibbons p

resents

his famous recreation of the original authentic virtuoso piano style of George Gershwin

. Gibbons has m

eticulous

ly transcribed the originals

note-for-note

from

the composer's

own

recording

s, and the concert includes many well known works such as

Rhapsody in Blue,

extracts from Porgy and Bess

,

and the composer's improvisations on

I Got Rhythm, The Man I Love, Fascinating Rhythm, Someone To Watch Over Me

and more, plus the UK premiere of a newly discovered Gershwin improvisation.

"To listen to Gibbons' performances is to marvel afresh at his astonishing virtuosity, his rare control of the music's rhythmic vigour and his supreme relish for its melodic richness... Gershwin does not come more exhilarating than this" Classic CD
---
CONCERT 3:

ALKAN bicentenary celebration:
Twelve Studies in the Minor Keys, Opus 39 (complete)
Holywell Music Room, Oxford
Sunday 25th August 2013 at 7.00PM (note earlier start time)



In celebration of the bicentenary of the birth of Charles-Valentin Alkan, Chopin's close friend and neighbour, Jack Gibbons, famed for his acclaimed Alkan recordings, plays the complete Twelve Studies in the Minor Keys Opus 39. The set is a

n extraordinary and

mammoth work that includes some of Alkan's greatest music including his Symphony for solo piano, and the legendary Concerto

for solo piano (a work containing some of the most spectacular and haunting piano music of the 19th century). Gibbons, the

first

pianist to have performed Alkan's magnum opus complete in a single concert

(in Oxford in 1995 and London in 1996)

, presents

a very rare opportunity to

hear the entire work

in

this

special

ly

extended two interval concert.

"Staggering.. I can safely say that this ranks among the most exhilarating feats of pianism I've heard on disc... an Alkan interpreter of exceptional authority" Gramophone Magazine
---
CONCERT 4:

CHOPIN & ALKAN: piano legends
Holywell Music Room, Oxford
Thursday 29th August 2013 at 8.00PM


Jack Gibbons presents a program reflecting the relationship between these two great pianist composers (in celebration of the bicentenary of the birth of Charles-Valentin Alkan)

. The composers were next-door neighbours in Paris, attended each other's concerts and occasionally took part together in shared concerts. This programme will contain

a selection of music by both composers

,

performed by them in their Paris concerts during the 1840s

including

Chopin's Ballade Op.47,

Funeral March Sonata

Op.

35

, and a selection of Mazurkas, Nocturnes, Preludes and Studies, and Alkan's Marche funèbre

Op.26 and

Marche triomphale Op.2

7

, Saltarelle Op.23, Nocturne Op.22 and a selection of Preludes and other works.

"Jack Gibbons himself is a pianist of genius, with an endearing Jimmy Stewart-like awkwardness, a charming smile and about forty hands. His delight in and enthusiasm for the music is almost tangible in the haze of nervous energy that radiates from him." Daily Information, Oxford
---
CONCERT 5:

JACK GIBBONS' FAREWELL PIANO PARTY
Holywell Music Room, Oxford
Sunday 1st September 2013 at 8.00PM

Jack Gibbons concludes his 2

6th

annual Summer Piano Series with his traditional end of summer mix of both serious and light hearted music, including requests chosen on the night by the audience. Music to include works by Bach, Chopin, Alkan,

Debussy,

Gershwin &

some of

Gibbons

's latest

works.

"Gibbons' enthusiasm was evident from the start and made all the more clear in his interesting and at times humorous commentary. They gave the performances a stamp of authority that made the evening memorable." Worcester Telegram & Gazette, USA

HOW TO FIND THE CONCERT HALLS IN OXFORD:
The map below shows the location of popular concert locations in the city including the historic Holywell Music Room, as well as the location of the Oxford Playhouse's Tickets Oxford box office.
The Holywell Music Room is well served by nearby pubs, being a few yards from both the Kings Arms and Turf Tavern pubs (see second image below).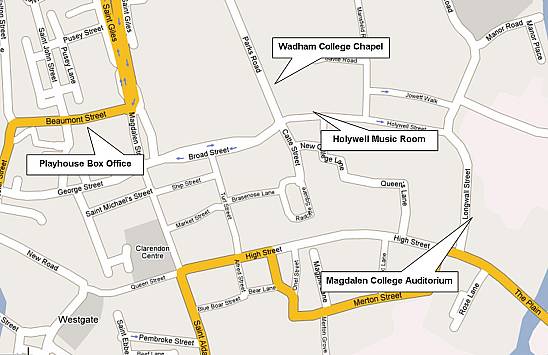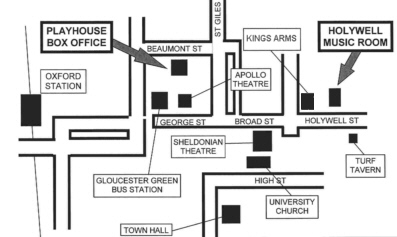 Click on the image below to read reviews of past Oxford concerts