WORDS...


"Happy at the piano"
Gershwin feature


"The Myths of Alkan"
BBC talk


"Fighting Back"
Interview with Gibbons


"Gershwin and Ivory Towers"
BBC Music Magazine


Archive material on
Gibbons' life-threatening car accident
JACK GIBBONS PODCASTS
This podcast will start automatically. To continue to listen while browsing other pages simply minimize this page. Closing this window will end the podcast.
Some of these podcasts can be downloaded and saved to your own computer or ipod.

---
JACK GIBBONS PLAYS BEETHOVEN
Piano Concerto no.4 in G major, Opus 58
I. Allegro moderato
II. Andante con moto
III. Rondo: Vivace
Recorded live in concert in 1982
If you have an Adobe flash player installed on your computer this link will take you to a stand alone mp3 player with more options on saving and sharing these files
(N.B. the music begins playing automatically in the Adobe flash player too, so you will want to pause the player on this page first before clicking this link!)

---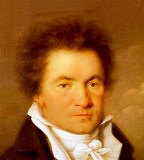 Ludwig van Beethoven's Piano Concerto No. 4 in G major, op. 58, was composed in 1805-1806 and dedicated to Beethoven's friend, student and patron Archduke Rudolph. Beethoven himself gave the premiere of the work at a private concert in March 1807 at the palace of his patron Prince Lobkowitz. The public premiere didn't take place until nearly two years later, on 22 December 1808 at the Theater an der Wien in Vienna. Beethoven was again the soloist on this occasion, which was his last appearance as a soloist with orchestra. This first public performance was part of what by any standards was a gargantuan concert, the programme also including the world premieres of Beethoven's Choral Fantasia and Fifth and Sixth symphonies!
A review in the May 1809 edition of Allgemeine Musikalische Zeitung states that this concerto "is the most admirable, singular, artistic and complex Beethoven concerto ever." However, after its first performance, the piece was neglected until 1836, when it was revived by Felix Mendelssohn.
In September 1982 Jack Gibbons won the Newport International Piano Competition with his performance of this concerto, playing with the BBC Welsh Symphony Orchestra, conducted by Bryden Thomson. The distinguished Beethoven scholar and pianist Denis Matthews, one of the members of the international jury, described Gibbons' performance of Beethoven's masterpiece as "masterly, one was quite overwhelmed at the range of moods and manners conveyed. Jack Gibbons is an extraordinary talent, a genius without doubt. He has a phenomenal technique even in these days of high technical standards, but far more important he has a distinct and distinguished recreative gift and artistic personality."