LIONEL SAINSBURY (born 1958)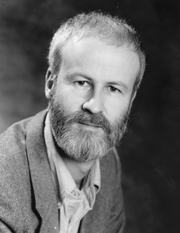 The British composer Lionel Sainsbury's music has been described by the press as "striking", "passionate", "ethereal", "beautifully crafted" and full of "beautiful musical ideas". Born in Wiltshire, England, he started to play the piano at an early age, and soon began to compose his own music. He studied privately and at the Guildhall School of Music and Drama in London, where he won the major prizes for composition, and while still a student was also awarded the UK's prestigious Mendelssohn Scholarship at the age of 21.
His music has since been enthusiastically acclaimed by audiences in the UK, Europe and the Far East. In the UK it has been performed at venues such as London's Wigmore Hall and St John's Smith Square, festivals including Aldeburgh, Harrogate and Lichfield, and the Dartington International Summer School.
In August 2002 Lionel Sainsbury's Violin Concerto was given its public premiere at the Worcester Three Choirs Festival. The soloist was Lorraine McAslan, with the Bournemouth Symphony Orchestra conducted by Adrian Lucas. The Concerto was immediately acclaimed by a wide range of reviewers: "teeming with bravado and bravura" (The Times), "a large scale Romantic work… fiery, passionate, emphatic, highly virtuoso, with ardent intensity and melancholy reflection" (Tempo Magazine).
Lorraine McAslan has also recorded the Violin Concerto for the BBC, with the BBC Concert Orchestra under their principal conductor Barry Wordsworth. Following its first broadcast on BBC Radio 3 the concerto was hailed by the British Music Society as "a vibrantly beautiful work, alternating drama and poetry… lambent, melodious, inspirational".
Sainsbury's other orchestral works include a symphonic poem entitled Time of the Comet, and a recently completed Cello Concerto. His Two Nocturnes for strings were premiered at Malvern in 1994 by William Boughton and the English String Orchestra, and were recorded in November 2003 by Gavin Sutherland and the Royal Ballet Sinfonia and released by Naxos as part of their English String Miniatures series in 1996.
Sainsbury's Cuban Dance No.2 is featured on violinist Tasmin Little's CD of virtuoso encore pieces, 'Tchaikovskiana', released on EMI Classics for Pleasure in September 2003. The Cuban Dance is the composer's own arrangement of the second of his Two Cuban Dances for piano. It has become a frequent encore piece for the violinist, Tasmin having performed it all over the world since premiering it in 1992. The work has also recently been recorded by the Royal Ballet Sinfonia in London in the composer's own orchestration.
Other compositions for violin include a Sonata, an evocative piece called Mirage, and Soliloquy for solo violin, the latter premiered by Oliver Lewis at the 1998 Norfolk & Norwich Festival. For guitar Sainsbury has written Five Fantasias, the first of which, Intrada, was premiered on August 6th 2007 by Craig Ogden at the Gloucester Three Choirs Festival.
Sainsbury has also written extensively for piano; amongst his works for the instrument are Twelve Preludes, Andalusian Fantasy and South American Suite, all of which were premiered by the pianist Jack Gibbons. Reviewers have described the Preludes as "immediately enjoyable in their contrasting moods and rhythms… there were hints of Debussy, of the strumming of flamenco guitars, even of haunting blues…", and as "a voyage of discovery for the audience… an important contribution to the instrument's repertoire, and a splendid highlight to the evening". In March 2002 another piano work, Cuban Fantasy, received its first broadcast in the composer's own performance on BBC Radio 3.
Sainsbury's music has also been popular with piano duos since his own performance of his Fiesta for two pianos with the pianist Sally Thompson while still a student at the Guildhall School of Music in London in 1980. Fiesta was later hailed as "a future two-piano classic, displaying wit and ingenuity in its kaleidoscopic dance rhythms" and it and other two piano works of his have been performed in the UK, France and Japan by a variety of piano duos including Marie-Christine and François Doublier, David Johns and Jeremy Brown, Jeremy Filsell and Francis Pott, Christopher Black and Yoko Katayama, Claire and Antoinette Cann and Gisèle and Chantal Andranian.
The composer has also recently given a number of his own solo concerts of his music. Following one such recital at St. John's College, Oxford, in October 2000 the Oxford Times enthused: "Surprise, surprise… we were transported to a world of 'sol y sombra'… vigorous, demonic energy in a tumult of rhythms and runs…".
In 2001 Lionel was asked to adjudicate the European Piano Teachers Association Young Composers Competition, and to give a recital of his own music to delegates at the 2001 EPTA UK conference in Oxford's Jacqueline du Pré Music Building. The program concluded with the virtuoso Andalusian Fantasy, later described in EPTA Journal as "a highly charged, evocative sound world of flamenco guitar, singing and dancing, which transported us into a world of fiery passion".
For more information on Lionel Sainsbury visit his web site at www.LionelSainsbury.com.

---
To view a video of the exquisitely beautiful slow movement of Sainsbury's Violin Concerto (with video of Jascha Heifetz and audio of Lorraine McAslan) click the link below.