LONDON concerts


OXFORD concerts



Concerts ELSEWHERE

CONCERTS IN THE US
Wednesday, September 26 2012 at 7.30 PM
Terrace Theater, Kennedy Center, Washington DC
JACK GIBBONS plays GERSHWIN
in celebration of Gershwin's 114th birthday

Presented by Davis & Elkins College
"Jack Gibbons is utterly unique in the music world. I venture to say that he may be the
only one in the world who has been able to recreate the original Gershwin sound.
Hearing him play I think to myself this sounds more like Gershwin's old recordings than anything
I've heard. It's astonishing." (WNYC, New York)
"Among the most exhilarating feats of pianism I've heard"
(GRAMOPHONE)
"Jack Gibbons is THE Gershwin pianist of our time"
(BBC, London)

Jack Gibbons makes his Kennedy Center debut on the 114th birthday of George
Gershwin in a special Gershwin Gala event presented by Davis & Elkins College of
West Virginia, where Gibbons is currently artist-in-residence. His program will include
three of Gershwin's concerts works, Rhapsody in Blue, An American in Paris and
Variations on I Got Rhythm, together with Gibbons' own reconstructions of the
original show-tune improvisations with which Gershwin would regale New York part-goers
in the 1920s and 30s. The concert will also include the world premiere of a recently
discovered original Gershwin song arrangement. For more information, and to purchase
tickets, visit the Kennedy Center's website.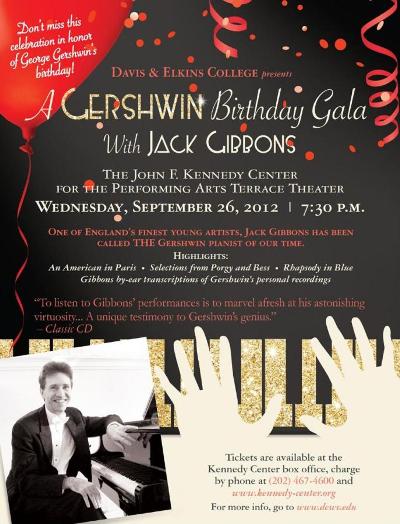 The Program:
A Gershwin Birthday Gala
Swanee (Capitol Review, 1918) *
Someone To Watch Over Me (Oh Kay!, 1926) *
Fascinating Rhythm (Lady Be Good!, 1924) *
Sweet and Low down (Tip Toes, 1925) *
The Man I Love (Lady Be Good!, 1924) *
My Cousin in Milwaukee (Pardon My English, 1933) *
The Half Of It Dearie Blues (Lady Be Good!, 1924) *
Somebody from Somewhere (Delicious, 1931) **
An American in Paris (1929) **
Do, Do, Do (Oh Kay!, 1926) *
Embraceable You (Girl Crazy, 1930) **
When Do We Dance? (Tip Toes, 1925) *
GIBBONS: Waltz on a musical box, Op.77
ALKAN: Etude Op.35 no.5 ('Allegro barbaro')
GIBBONS: A New World Song, Op.66
Variations on I Got Rhythm (1934) **
Bess, You Is My Woman Now (Porgy and Bess, 1935) **
Rhapsody in Blue (1924) *

* Note-for-note reconstructions by Jack Gibbons from Gershwin's original
1920s and 30s recordings and piano-rolls
* * Jack Gibbons' own transcriptions, based on Gershwin's original material
| | |
| --- | --- |
| | Jack Gibbons plays Gershwin's Rhapsody in Blue |
---
Jack Gibbons returned to Carnegie Hall on Monday November 15th 2010.
Monday, November 15 2010 at 8.00 PM
Weill Recital Hall at Carnegie Hall, New York
JACK GIBBONS plays CHOPIN
in celebration of Chopin's 200th birthday
"Jack Gibbons is utterly unique in the music world."
(WNYC, New York)
"Among the most exhilarating feats of pianism I've heard"
(GRAMOPHONE)
"Prodigiously gifted classical pianist"
(THE TIMES, London)

Jack Gibbons returns to New York's historic Carnegie Hall to celebrate the bicentenary of
the birth of Chopin. In this special biographical concert Gibbons will trace Chopin's entire
life through words and music, from his earliest childhood Polonaises, to his final
Mazurkas. His program will include some of Chopin's most inspired works including the
Polonaise in A flat Op.53, Third Scherzo, Barcarolle and the impassioned Funeral March
Sonata Op.35 (with which Gibbons made his Queen Elizabeth Hall London debut in 1984,
The Times describing his performance as "monumentally mournful").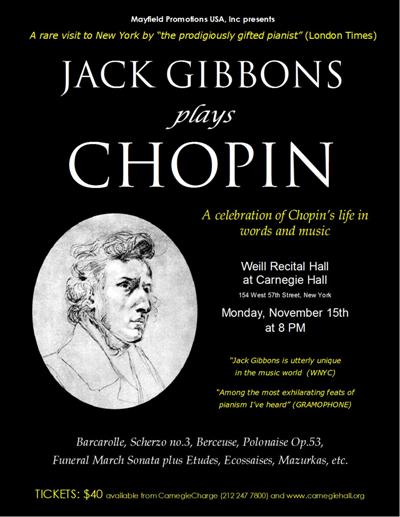 The Program:
Chopin's life in words and music
Krakowiak in F major, Op. 14
Etude in F major, Op.10 no.8
Polonaise in G minor (1817)
Polonaise in A flat major (1821)
Three Ecossaises (1826)
Etude in E major, Op.10 no.3
Scherzo No.3 in C sharp minor, Op.39
Berceuse, Op.57
Polonaise in A flat major, Op. 53
'Wiosna' (song, arranged Gibbons)
Mazurka in C sharp minor Op.63 no.3
Barcarolle, Op.60
Mazurka in G minor (1849)
Sonata in B flat minor, Op.35 ('Funeral March')

| | |
| --- | --- |
| | Jack Gibbons plays Chopin's Polonaise in A flat, Op.53 (recorded live, May 1987): |
---
More about the performer
Hailed by the Sunday Times as "a remarkable talent", JACK GIBBONS is widely recognized on both sides of the Atlantic as one of the finest pianists of his generation, his concerts being regularly received with standing ovations at New York's Carnegie Hall and Lincoln Center, and at London's Queen Elizabeth Hall, where he has appeared annually for over 16 years. Described as "an awe-inspiring and prodigiously gifted classical pianist" by the London Times, Jack Gibbons was hailed by the BBC as "THE Gershwin pianist of our time" following his triumphant debut at the famous BBC Promenade concerts in the Royal Albert Hall in 1995. In 2002 he won special praise for having fought his way back from a near-fatal car accident to perform once again to capacity crowds at London's Queen Elizabeth Hall and New York's Carnegie Hall. The British press described his achievement as "miraculous" and "gutsy". New York's Time Out wrote of his Carnegie Hall come-back concert: "The vivacious British Gershwin specialist made a triumphant return to the New York stage after spending most of the year convalescing from a terrible automobile accident. Welcome back, Jack!" In June 2010 Jack Gibbons was appointed artist-in-residence at Davis & Elkins College, in the beautiful Appalachian mountain town of Elkins, West Virginia.

Jack Gibbons began performing in public at the age of 10 and gave his London debut at 17 with an all-Alkan program that included the legendary Concerto for Solo Piano (recordings of the concert were subsequently requested by the BBC and the Juilliard School of Music in New York). At the age of 20 Gibbons won First Prize in the Newport International Pianoforte Competition with a performance of Beethoven's Fourth Concerto which was described by the jury as "masterly". In 1994 he gave his New York and Washington DC debuts to tremendous acclaim, and the following year made his debut at the BBC Proms at the Royal Albert Hall. His highly popular recitals at London's Queen Elizabeth Hall were an annual feature at the South Bank for over sixteen years. Jack Gibbons also performs frequently with major orchestras from the UK and US, including the City of Birmingham Symphony Orchestra, Royal Philharmonic, Hallé, etc.. In 1998, for the centenary of Gershwin's birth, Gibbons performed his unique Gershwin transcriptions throughout the world, giving concerts in the UK, Holland, France, Italy, Czech Republic, Australia, Africa, USA, etc.. Jack Gibbons' performances have been described by the press as "compulsively communicative"; in addition to his playing Gibbons regularly intersperses his programs with brief anecdotes and musical illustrations, revealing secrets of the music he plays in a way that is both educational and highly entertaining.

Jack Gibbons' recording credits include a Gramophone Award nomination, MRA awards, and numerous special commendations by CD magazines, newspapers etc. His award-winning "Authentic George Gershwin" series on ASV/Sanctuary features the first modern recordings of over 4½ hours of original Gershwin material and has been described in the media as "a unique testimony to Gershwin's genius". The latest volume to be released (Volume 4, "The Hollywood Years") was described by Classic CD magazine as "unimpeachable... all the superlatives already heaped on Volumes 1-3 of Jack Gibbons' ASV series 'The Authentic George Gershwin' can be re-amassed on Volume 4". Classic FM magazine described the new album as "a real labour of love and not a little musical scholarship - though you'd never guess it from Gibbons's infectious playing". (More information on Jack Gibbons' CD series, "The Authentic George Gershwin", and other recordings can be found by visiting the recording page.)

Jack Gibbons is well known for his performances of Chopin, of whom he has made a special study, and of Chopin's less well known contemporary, virtuoso pianist/composer Charles-Valentin Alkan. In January 1995 Jack Gibbons gave the first performance in history of the complete Opus 39 Studies of Alkan in a single 3-hour-long concert in the university city of Oxford, England. He repeated the event a year later before a sell-out audience at the Queen Elizabeth Hall, London, the Times described the event as "awe-inspiring".
Amongst Jack Gibbons' other achievements can be listed his concept for the promotion of young artists in the music profession. Gibbons' ideas became reality thanks to the generosity of multi-national company W. H. Smith who backed the project and formed what is now known as the Young Concert Artists Trust (or YCAT), a lasting legacy for young professional musicians, providing help and guidance at the beginning of their careers.
As a composer...
Gibbons has been described by the press as "a composer of distinction", his music "deeply moving". His Lullaby, honoring the memory of Gershwin's biographer Edward Jablonski and performed at Carnegie Hall in 2005, was described as "capturing a unique American wistfulness and vastness of loneliness that also marks the Andante of Dvorak's 9th Symphony and the 2nd movement of Barber's violin concerto".
Jack Gibbons began writing music at the age of 9, his first work being a two movement Sonata in C major. By the age of 13 he had written and fully orchestrated a three movement piano concerto as well as a large collection of virtuoso piano pieces and songs. At 14 the distinguished British composer Sir Lennox Berkeley awarded him a special composition prize for his Piano Rhapsody. Since then his performing career prevented him from pursuing his own writing. With time on his hands during his recovery from a life threatening car accident in 2001 Gibbons began writing again for the first time in 25 years. He has since had his music performed with great success at Carnegie Hall in New York, the Queen Elizabeth Hall in London, and elsewhere, and recorded by the BBC. Jack was invited to be a composer in residence at the Italian home of Lady Walton (wife of composer William Walton). Gibbons' music to date includes over 50 songs (mostly for soprano voice), 20 piano works, and two works for string orchestra.